This year the programme boasts with a diverse group of participating artists. Ranging from OLAF alumni to UNAM performing artists to ensembles and first time artists. Artists were selected from over 80 submissions and consists of 20 ensembles and six Individuals.
---
Adiel Van Wyk – Dielo Drums
Adiel Meclomen van Wyk is mostly known as Dielo Drums. He was born and raised in Windhoek and his musical journey started at a very young age when he was inspired by his father, Samuel Samora Cloete, founder of Face to Face live Band in the 90s. "I love watching the drummer when they use to rehearse and that's where I fell in love with the drums." My first performance was at the 2008 Ai Gams Festival and in 2017 I branded myself as Dielo Drums when I started infusion percussion with DJ.
Instagram: @dielodrums
Adriano Visagie and Keanu Greeves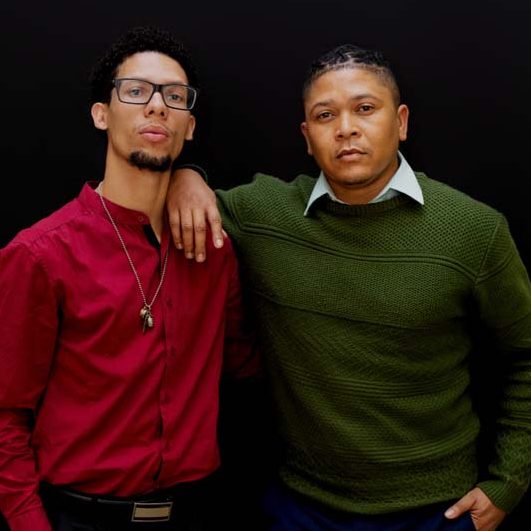 Adriano Visagie is an International Award winning Actor, Voice-over Artist, Contemporary dancer (COTA- College of the Arts), Host, Television Presenter & full-time banker. Visagie is best known for his debut role as ' Cardo ' in the prison film 'Salute' among his award-winning or nominated roles in Kapana. As a thespian, he has starred in award-winning theatre productions such 'Meme Mia '; ' Lammie Beukes'; 'District Six', 'The Nut House' and 'One flew over the cuckoo's Nest' which respectfully earned Adriano Best Actor in theatre at the Namibia Film and Theatre Awards 2017. Adriano is the co-founder of a non-profit theatre project 'Actors lab' that aims at educating fellow aspiring actors and allowing them the platform to develop on stage and in front of the camera.
Keanu GReeves is a dancer and choreographer from Rehoboth. Keanu started dancing at age 10 and went on to become the Michael Jackson of Namibia as proclaimed by the President. With 14 years in the dance and fitness industry, Keanu grew his brand, "CODESYNC" and is a co-owner of ZLIFE STUDIOS for dance and fitness. Keanu believes in the growth of the industry to help other dancers and performers grow within themselves and to show that dance is a career that can be taken seriously.
Instagram: @keanu_dc_greeves
Alessa Bollack and Glen Hawkins
Alessa Antonia Bollack was born in Berlin and raised in a small town in East Germany. After acting in various plays, she directed a play for and with kids for the first time in Cochabamba Bolivia 2019. After assisting a year in children and youth theatre in Eisenach, she enrolled to study directing for theatre at the Akademie für Darstellende Künste Baden-Württemberg. There, she has worked on one film project and various other small performances, focusing on political aspects, feminism, and LGBTQIA+topics from a young person's perspective.
Instagram: @lessa__15
Glen Hawkins is a British-Austrian directing student and writer from Salzburg.
After graduating from high school, he/they completed an internship in gallery work and moved to Vienna to gain experience in theatre work. In the summer of 2020, Hawkins worked as an assistant director at the Schauspielhaus Salzburg and since September 2020 he/they has been studying directing at the Akademie für Darstellende Kunst Baden-Württemberg. In addition to small projects created during his/their studies, Hawkins is a writer, which is an incessant search for identity, affiliation, and aspirations in his/theirs own biography.
Instagram: @glenhawkins_
Erick Nengola and Godhardt Muchopa (Peacemakers)
Godhardt Muchopa (also known as Sonny Vision) was born on February 19, 1998, better known as the Artist, Rapper, and Sound Engineer for the group.
Instagram: @_sonnyvision_@peacemakers._

Erick Nengola (also known as, Kid Wasabi) born August 8, 1998 – is a composer and songwriter for the Windhoek-based duo Peacemakers, who have been hailed locally for their out-of-the-box creativity.
Instagram: @Kid_wasabi_@peacemakers._
Sigera Jazz and Fusion Band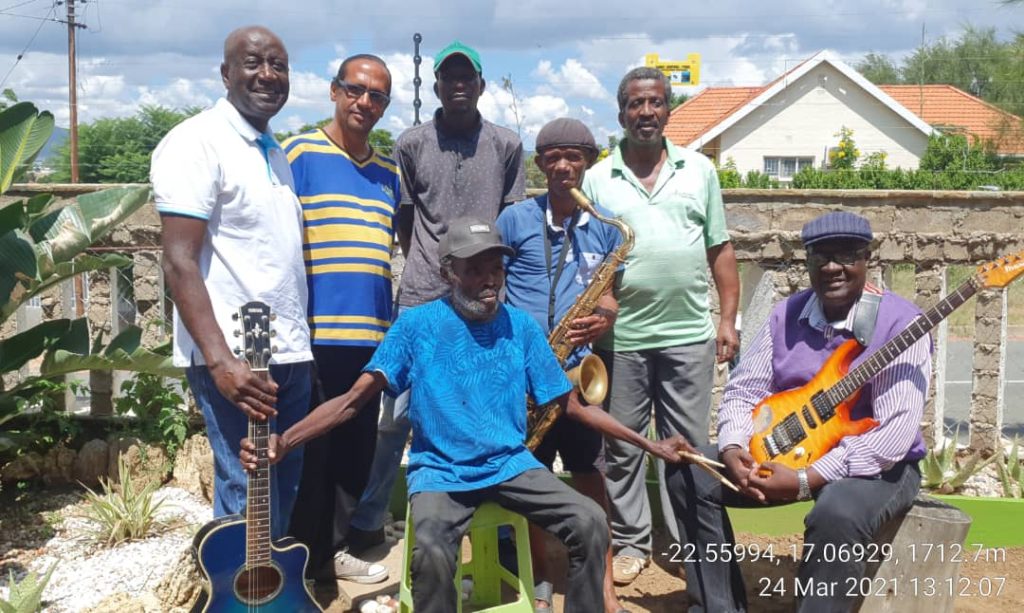 Carlos Kambaekua, Lucky Gawanab, Gerson Doeseb, and Panten Gariseb form the Sigera Jazz and Fusion band, which is a six-piece band formed in 2006 by retired musicians styling in performing live gigs by doing a mixture of golden oldies cover versions, ranging from Fusion Jazz, Pop, Ballroom and Mbaqanga. The band has performed at various high-profile gatherings including the Windhoek Jazz Festival to name a few. After a hiatus of two years, the band has regrouped with a few new additions to the original lineup, with the founding members still in the mix of things.
Cassidy Karon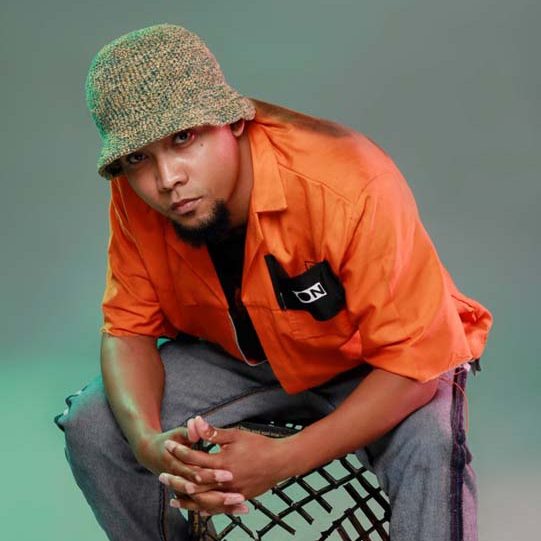 Cassidy Karon is a Namibian Hip-Hop Artist, fashion designer, creative director, songwriter, producer and mixing engineer. Born in 1993 in Windhoek, Namibia, he is the last born of 3 siblings. Cassidy Karon was introduced to the mainstream music scene in 2009 as part of a multi-award-winning Hip-Hop Duo Paradox. In 2019 Karon dropped his solo debut and less than a year later won the best hip-hop artist award. To date, Karon has released 3 studio albums as a solo artist and has garnered himself a core street following.
Instagram: @cassidykaron
Christiana Simeon and Klaudia Sheehamange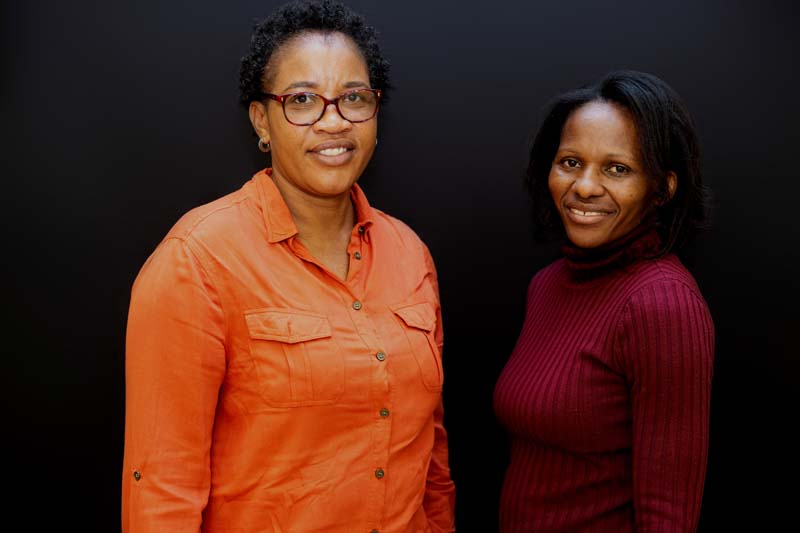 Christiana Simeon and Klaudia Sheehamange are a Clarinet duo, performing classical music. Christiana is a musician and Arts Lecturer for Saxophone and Clarinet at the College of the Arts. She is a holder of a BA in Music and Psychology honours degree from the University of Namibia. Klaudia is a musician and is employed by the Ministry of Safety and Security under the Music Department as a Clarinet player.
Erwin Gaweseb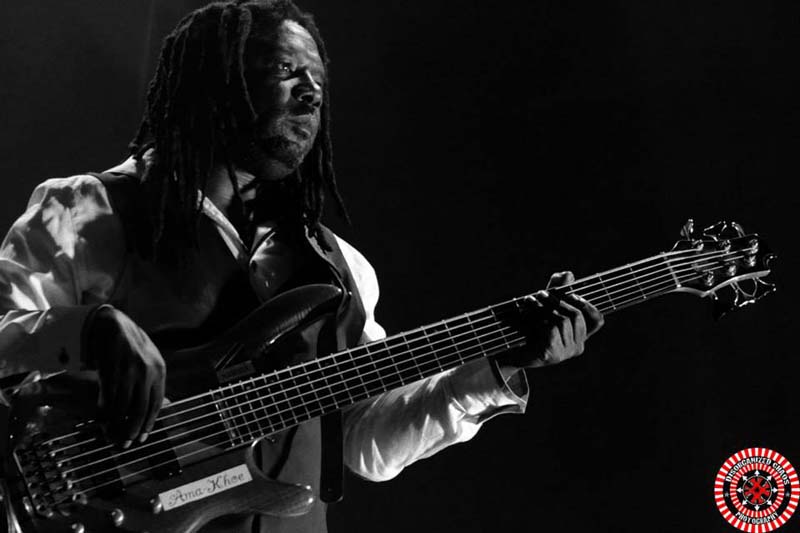 Erwin Gaweseb, widely known as Amakhoe, is a NAMA Award-winning musician and lecturer at the College of the Arts. Music has always been in his blood, as his family was musically inclined. Amakhoe started playing the acoustic guitar before moving on to the bass guitar, his preferred instrument. His early experiences in the music industry was playing with friends, and a band called MOJ's. Amakhoe studied Jazz performance and Arrangement at UCT and has been integral to the Namibian music industry and scene. He has played for numerous Namibian musicians and projects as a Bass player, arranger and composer, some of these projects are A Handful of Namibians, Human by Elemoto and more. His first album, In Conversation, was released, and now he is currently busy with his second album.
Felicitas Mogotsi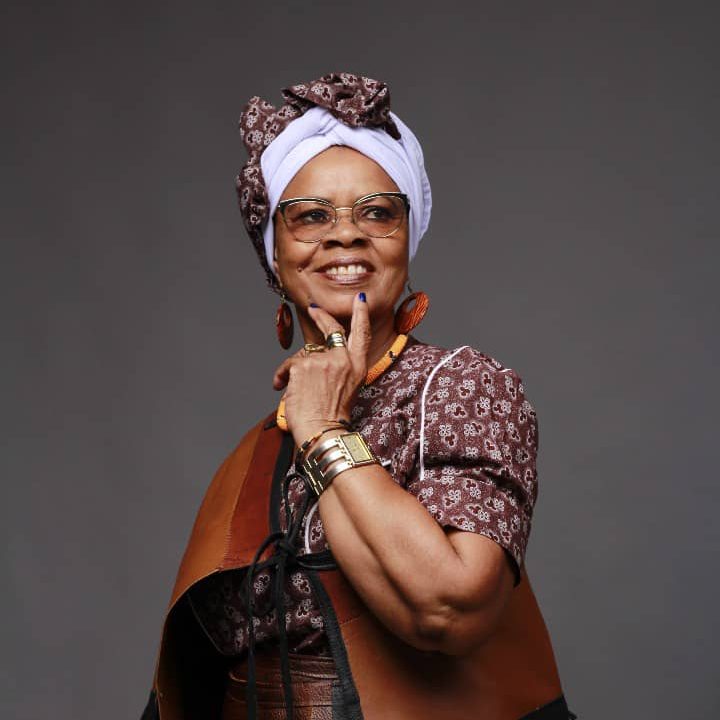 Felicitas Mogotsi is a retired teacher and storyteller. A lover of storytelling, she was drawn to the art of storytelling, emoting and orating, through a household filled with storytellers including her parents and Grandmother. Mme Mogotsi has worked as a primary school teacher until her retirement, but continues to do community work in Aminuis and believes that storytelling and education go hand in hand, as education prospers through the medium of storytelling. She is joined by Adelrica Dihore for this storytelling experience.
Jaimee-Lee Diergaardt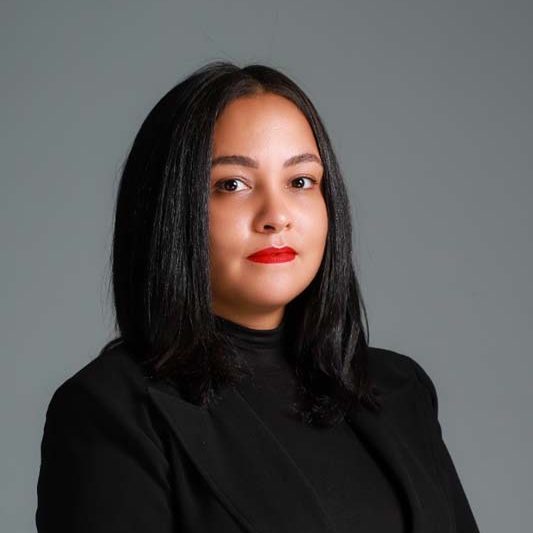 Jaimee-Lee Diergaardt is a multifaceted creative and entrepreneur who owns 'Something-Artsy'- an independently operated art studio that offers sparkling creativity and art-making without rules in interactive settings.
Instagram: @jaimeelee.d
Johanna Tommasi and Brandy Shoombe
NaJah is an independent /unsigned Namibian Singer, Songwriter, Composer, Multi-Instrumentalist & Creative Director. Since 2013 NaJah performed at various events & venues in Windhoek Namibia, including the annual Franco Namibia Cultural Centres 'World Music Day', Warehouse Theatre, National Theatre of Namibia, Windhoek Ai-Gams & Jazz Festivals. NaJah studied African Performing Arts at the College of the Arts in Windhoek from 2013-15 where she majored in Music Theory & Guitar. She was also trained in playing the African Drums (Ngoma & Djembe), Marimba & Mbira.
Instagram: @najahafrika
Brandy Shoombe was born in exile and returned to Namibia in 1990 and discovered that she would have to learn to let go of anger to regain her sense of peace. Apart from teaching Yoga at the Virgin gyms in Windhoek, Brandy gives regular free yoga community classes. She is also the founder of the Oshana Yoga Project which she initiated in the town of Oshakati northern Namibia, an idea born after she was awarded a scholarship to attend the Teachers Yoga training in Nairobi Kenya, where yoga is practised even in the deepest most remote Masai villages.
Facebook: Oshana Yoga Project
Keith Vries
Keith Vries is a poet, writer and performer. For the past decade, he has been performing poetry and has been involved in productions that seek to create awareness about and around the 1904–1908 Namibian Genocide. As a »genocide activist«, his work has appeared in performances and exhibitions in Namibia, Tanzania, Cameroon, Germany, the United States, the United Kingdom and South Africa. Besides performance poetry, Keith's work also focuses on »ritual« themed live (theatre) performances paying homage to and seeking restitution for the victims of the 1904–1908 genocide and grassroots activism work in Namibia, which addresses the residual colonialism left as a result of the genocide.
Instagram: @keith_connect
Mervin Claasen, Melkizedeck Nehemiah and Moricha Job
Mervin Claasen, also known as Clown Ding Dong, is a performer, singer, comedian and multidisciplinary creative. With over 15 years of experience in Clown, Mervin trained in France in 2007 and thereafter has performed at Niort Festivals and for various events and venues in Namibia, in particular at children's parties, Namibian Breweries, Telecom Events and at the Goethe-Institut Namibia.
Instagram: @MarvTown_marvtiza
Melkizedeck Nehemiah is an actor, director, and all-round performer with about three years of experience in clowning. As a clown, he has performed as Clown Tik Tok at numerous Fun Factory events.
Moricha Job is a dancer and Firefighter. Known as Clown Moe, Moricha has been participating in performances with Ding Dong since 2010. Moricha has performed at various events and venues in Namibia, in particular at children's parties, Namibian Breweries, Telecom Events and at the Goethe-Institut Namibia.
Michael Namaseb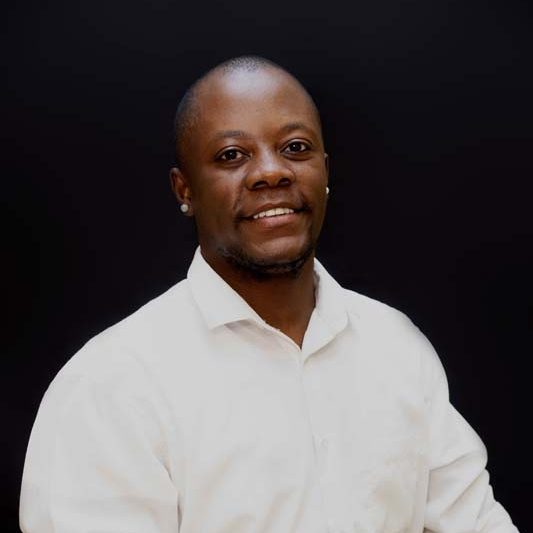 Michael Namaseb is a well-rounded artist, dancer and graduate from COTA (College of the Arts) who holds a diploma in Media studies in Film and Television Productions. Michael has produced and written many local productions in Namibia such as Standard Bank Waka Kids Choice Awards for two consecutive years 2021 & 2022. He was the Producer for The Search, a Namibian local talent search show.
Natache Iilonga and Martin Jimmy Namupala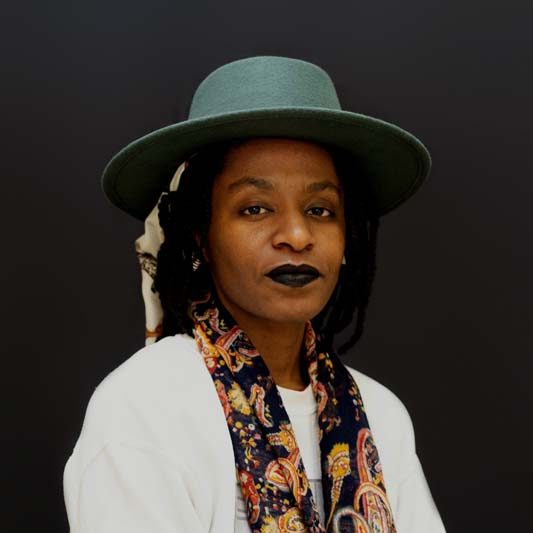 Natache is one of the creative directors of Black Court Studios, currently practising in Windhoek, Namibia. She is also an independent researcher, spatial design artist, entrepreneur, academic external reviewer for architectural student work; and current chairperson of the Namibian Arts Association. She holds a Master of Technology in Architectural Technology Professional (Graduate School of Architecture University of Johannesburg 2017) and a Bachelors in Architectural Studies degree (University of KwaZulu Natal 2014) and was a co-coordinator of The Decolonising Space Group and The Land Pavilion Project.
Martin is one of the creative directors of Black Court Studios, currently practising in Windhoek, Namibia. He is also an independent researcher, technical advisor for informal settlement upgrading engagement and senior architectural technologist. He holds a Master of Architecture (NUST), Bachelors in Architectural Studies degree (NUST) and a Bachelor of Honours in Architectural Studies degree (NUST); and was a co-coordinator of The Decolonising Space Group and The Land Pavilion Project.
Instagram: @landpavilion_nam (DSG teamwork projects) @blackcourtstudio
Ndayola Ulenga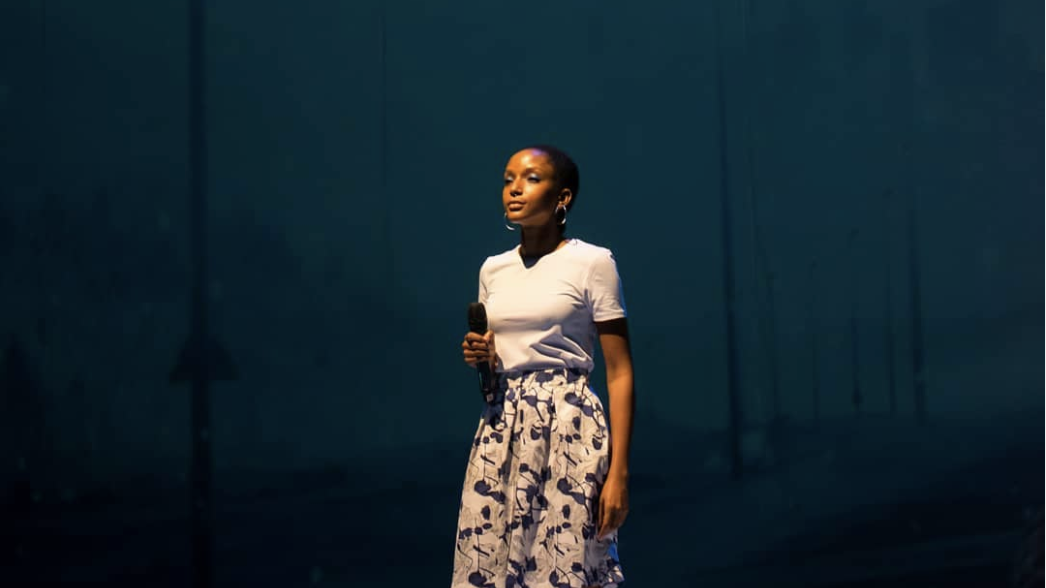 Ndayola Ulenga is an actress, singer, performer and all-around creative. Born and raised in Windhoek and from an early age, she's been passionate about the performing arts, training in Cecchetti Ballet at the National Ballet School, thereafter growing up and acting and singing in various productions. Ndayola holds a bachelor's degree in Drama and Sociology and is currently furthering her acting studies with the Identity School of Acting. Whilst living in Cape Town, Ndayola was part of the Second Liners Improv troupe, where she further developed her acting skills. She has been singing professionally for the past two years and has performed at several events and venues in Windhoek. Ndayola believes that the arts are integral to developing a balanced society. "The Arts heal. The Arts inspire and The Arts develop. We also learn about each other through the arts and can thus grow in empathy for other people and different ways of life. These reasons, and others, show how important performing arts are for the general public"
Instagram: @aloyauling
OYO Dance Troupe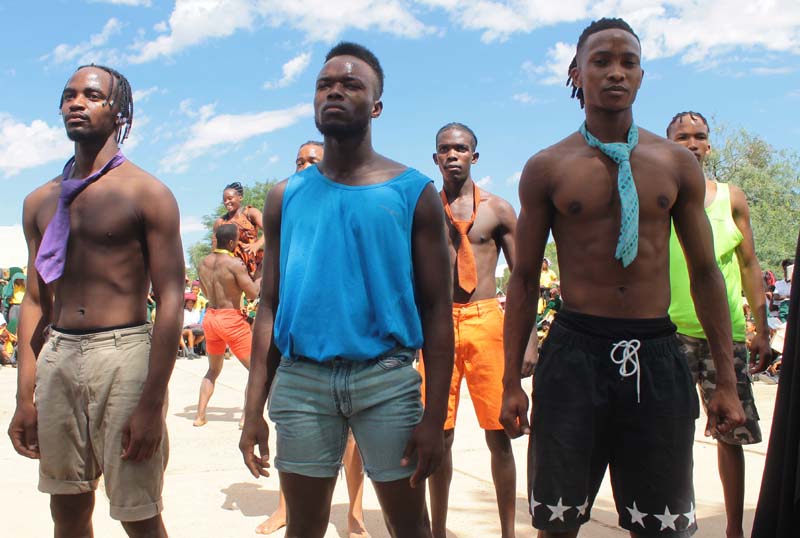 Ombetja Yehinga Organisation (OYO) is a Namibian Welfare Organisation (WO 199) established in December 2002, and officially launched in March 2003. The organisation aims at using the arts – both visual and performing – to create awareness and mitigate the impact of the HIV/AIDS pandemic and other social problems such as domestic violence, rape, and the abuse of alcohol and other drugs amongst the youth of Namibia.
Botselo Band (Ermelinda Thataone, Jean Pierre Ntsika, Moses Saize & Samuel Batola)
Sam Batola is a professional artist musician/Guitarist who was born in Congo and holds a bachelor's degree in Classical Music, Film Music, African Music, Jazz and more and has been touring for over 17 years. He has performed at many festivals in South Africa, Zambia, Lesotho, Botswana, Zimbabwe, Germany, France and more. Sam truly believes that music and culture unite and bring the world together.
Facebook and Instagram: Sam Music/Arts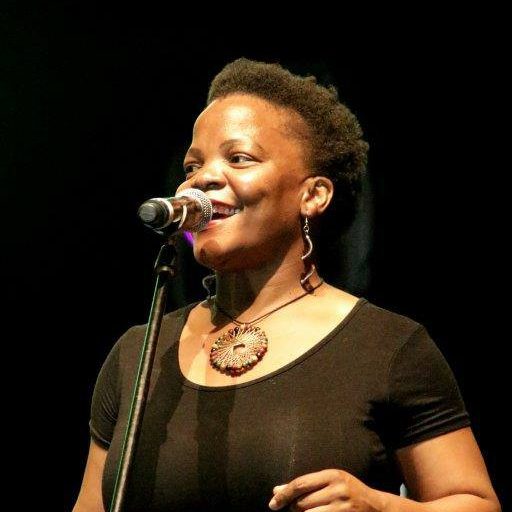 Ermelinda Thataone is an award-winning singer and is the lead singer of the band. With a vast experience in the music industry, Emerlinda repertoire is mostly in Tswana and English, as she aims to keep her culture and customs alive through music. She is a recipient of the RFI 2013 award.
Facebook: Ermelinda Thataone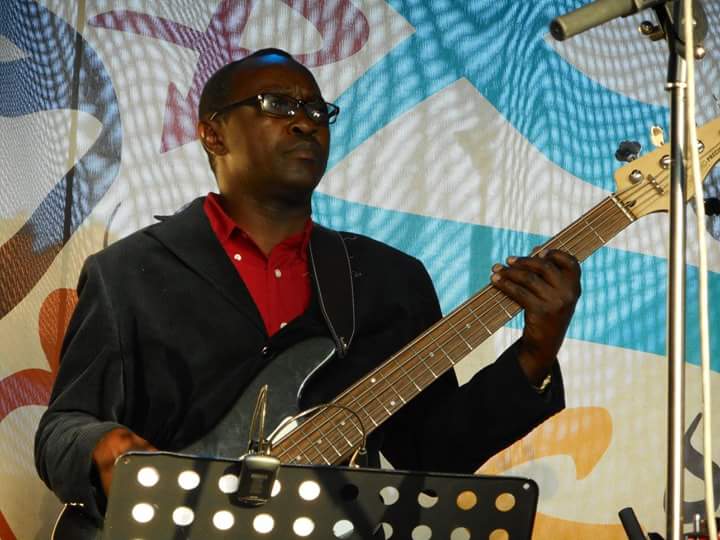 Jean Pierre Ntsika, also known as, JP Bass, is an experienced talented musician around the Globe who has had experience in recording with many international artists. JP was born in the Republic of Congo but raised in Namibia. He has been in the music industry for more than 18 years. His bass brought a distinct sound to the Namibian music industry.
Facebook: Jean Pierre Ntsika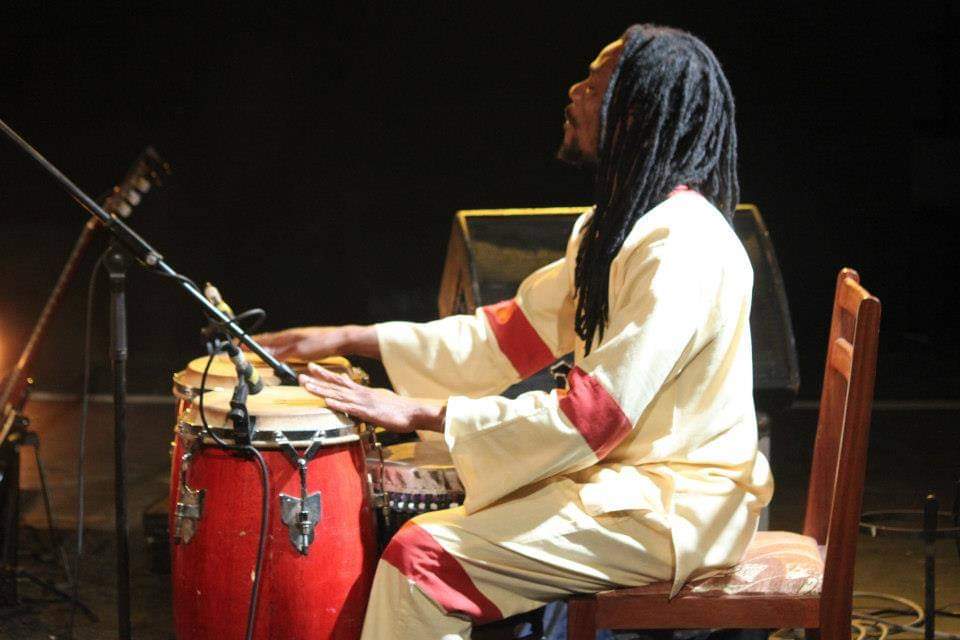 Moses Saize is a talented percussionist from Zimbabwe who currently lives in Windhoek, Namibia. He is one of the greatest percussionists in Namibia and also has a colourful tour record with international artists. Moses also served as the main percussionist of Oliver Mtukudzi in Zimbabwe.
Facebook: Mozel Saize
David Arthur Beukes and Shen Nanyanga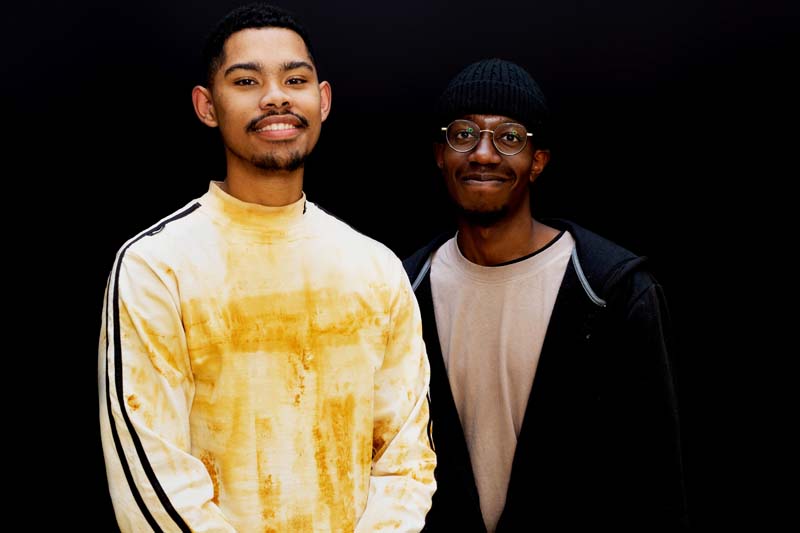 Shen Nanyanga, mostly known as spiiriit, was born in Oshakati, Namibia, is a self taught visual/graphic designer, musician and all-around creative. He channels his creative inspiration mostly from photography and film. His art reflects his interest in human nature and most importantly culture. Nanyanga's use of sound and live recordings gives off the idea of sampling and archiving moments that he treasures in real time. Some of Nanyanga's collaborative works have been played in South Africa and Switzerland by the band Tschuku Tschuku.
Instagram: spiiriit.nam Tumblr: spii-riit
David Beukes, mostly known as lvminvs, is a multi-faceted visual and sonic artist, focusing on electronic music production. Working mostly in the hip-hop scene his latest work focuses on experimental approaches to hip-hop production. lvminvs. was a participant in the PopAkademie-run Music Camp 2022, and runner-up in the Loop Sessions 2022 competition.
Steven Afrikaner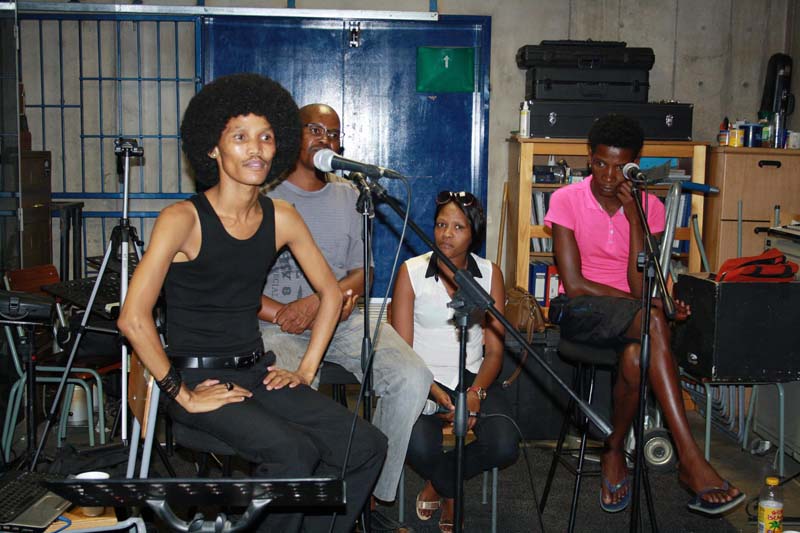 Steven Afrikaner is a singer, actor and performer. Creator of the music genre: NAM-Rhythm which stands for Native African Music Rhythm. Originally, a South African native from Steinkopf in Northern Cape Province, now residing and studying in Namibia over a couple of years, the artist holds a B. A. (Honors) degree qualification in Ethno-Musicology and is currently studying towards an MA in Music at the University of Namibia in Windhoek. Steven is referred to, by some as "The Keeper Of The Culture", as he uses his talents (voice and art) to empower people by advocating for the improvement of our society through the promotion of positive societal values, while also encouraging the preservation of the Southern African Music, Culture and Heritages; especially that of the Nama / KhoiSan Community, showcasing and promoting excellence in African Artistry whenever given a platform to perform.
Sven-Eric Müller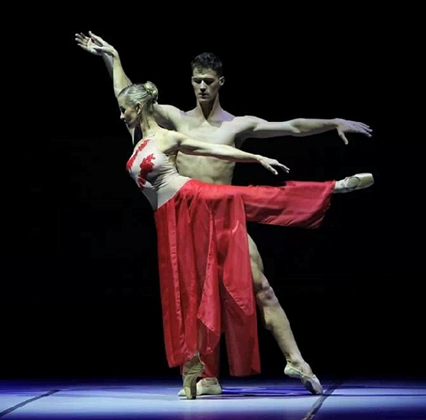 Born and bred in Namibia with a huge passion for performance. Sven-Eric went on to pursue a formal education in theatre. He spent the last decade in the Professional South African theatre industry with a short stint in Australia and the odd trip to Namibia for teaching and performing. During his professional theatre career Sven-Eric spent 5 years with a Contemporary Ballet Company growing to from apprentice to principal. He moved on to Musical Theatre where he did everything from Cabaret and Funny Girl to West Side Story and Joseph – many musicals lead to buckets of knowledge and experience in theatre practices. In 2018 he shifted gears once more and entered the creative space by choreographing and directing his second contemporary ballet, Aivilo. He was the resident choreographer for Gate69 (cabaret theatre) in Cape Town for 5 years. Recently his career took another shift by opening his movement studio Oh Shift in Windhoek during the pandemic. The vision forward is to keep healing and helping as many bodies as possible, while also stepping back into the performance realm in full force.
Ou Lokasie Cultural Group
The Old Location Cultural Group was established in 2011 after the women born in Old Location realised that there was a misinterpretation in the narrative of the Old Location and that it was made party politics.Their vision then was to use arts and culture to re-tell the stories as they remembered and experienced it, using traditional knowledge and artifacts used during that time to express this heritage through songs, traditional rituals, cultural dance, folktales, exhibitions and presence.In their existence of 11 years, the OLCG has participated in various national cultural festivals such as the annual #Nu-Khoen Festival, community cultural celebrations and commemorations.
Tapuwanashe Munyayi ft. Toivo Paulas, Sebby Ngateya & Ladislau Bengue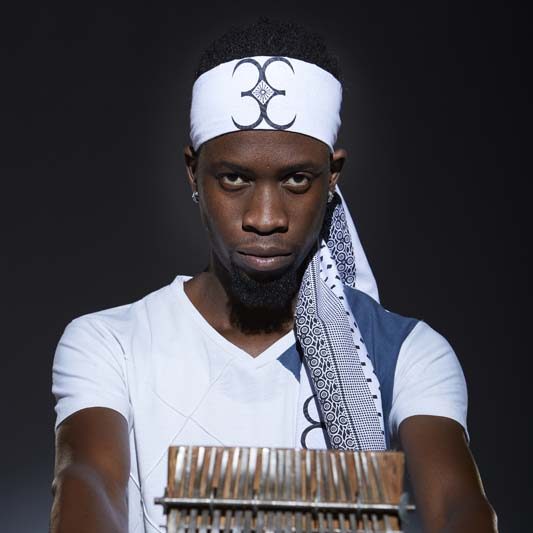 Tapuwanashe "Tapz" Munyayi is an award-winning performing artist, songwriter and activist born in Harare, based in Namibia. His interest in arts began at an early age, at home where singing and dancing were part of growing up. His mixed southern African background exposed him to various styles and his main influences have been Afro-fusion jazz, Soul, Pop and Traditional music. Over the past years, he has collaborated with various artists with whom he recorded and performed internationally. He is working on his debut EP and several single tracks under his name.
Instagram: @tapzgram
Ladislau Bengue is a musician, also known as Lau, and is not a new name in the music industry. Angolan was born and based here in Namibia, Lau has played for big names in the industry including Slickartie, TAPZ, Ashwyn, just to mention a few. He perfected his guitar skill bringing a mix of old folk and new age music. Currently, he is a session musician.
Sebby Ngateya is a producer and DJ. Having been part of a famous DJ Trio Deck Geeks, Sebby has mastered the skill of sound production. He is a DJ and a music producer by profession and is currently focusing on electro and techno music productions.
Toivo Paulas, also known as, Banger Drums has gained popularity in recent years with his band Banger drums, performing all over Namibia including at the NAMAs, Crayfish Festival and more. A college of arts graduate, Toivo majored in Music and is currently providing music classes as part of team building for Ongoma and Team Build Namibia. He has collaborated with big names in the arts industry and performed internationally as well.
Instagram: @eyes_banger_drums
Gift Uzera, Munigandu Hoveka & Marchell Linus So-Oabeb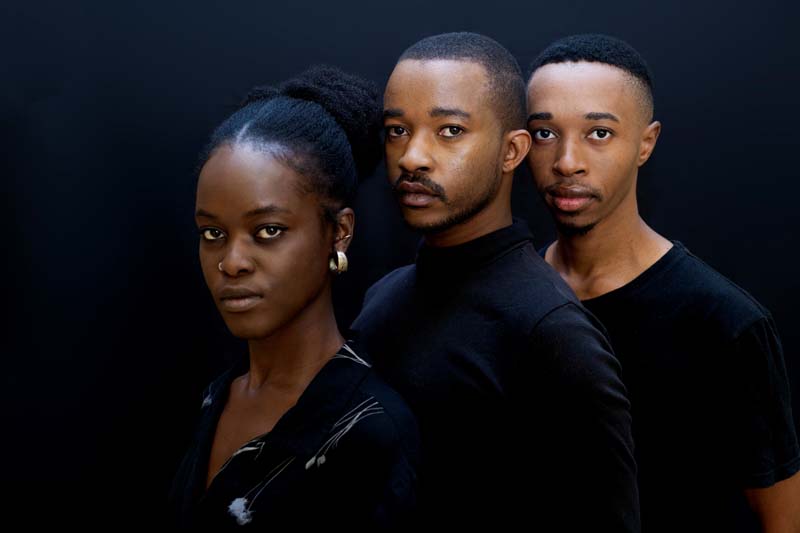 Gift Uzera is a freelance professional dancer, choreographer, and film and theatre actor. Gift graduated from the University of Namibia and holds a Bachelor of Arts degree (Honours) in Psychology and Music Studies in dance and movement. Working both in film and theatre, he also has had experience being the project coordinator for the Windhoek International Dance Festival in 2017 & 2018. His recent works include co-productions that deal with the entangled colonial past and present stories such as; Hereroland, Namibian and German theatre production and Hidden, performance collaboration with artists from Cameroon in 2021.
Instagram @giftaquadance
Muningandu Hoveka is a creative entrepreneur and freelance artist. Muningandu obtained a Bachelor of Arts (Honours) in Creative Expression and Ceramic Studies at the University of Namibia, and her career shifts between visual arts and performing arts. Her professional career started as one half of the music duo, formerly known as Stardust, a multi-award-winning group. Her most recent works are under the ensemble, The [ ] Project, which explores physical theatre, soundscapes in music and curatorial practice as an interdisciplinary approach. The ensemble has performed on platforms such as the National Theatre of Namibia (2019), Franco-Namibian Cultural Centre (2021) and has completed a video installation as part of the Owela Theatre and Performance Workshop/Seminar (2021)
Instagram @_cosmicqueen
Marchell Linus So-Oabeb is a professional dancer, choreographer and journalism & Media studies graduate. Marchell, additionally, holds a Theatre dance educational background. He is also a Director, Scriptwriter and Video Editor. He has taken part in the Namibian Annual Music Awards as a freelance dancer and has worked with international choreographers and has assisted in choreography and directing. He was part of a dance company formerly known as First Rain Dance Theatre.
Instagram @ayomarchell
Tshigwedha Pous Pius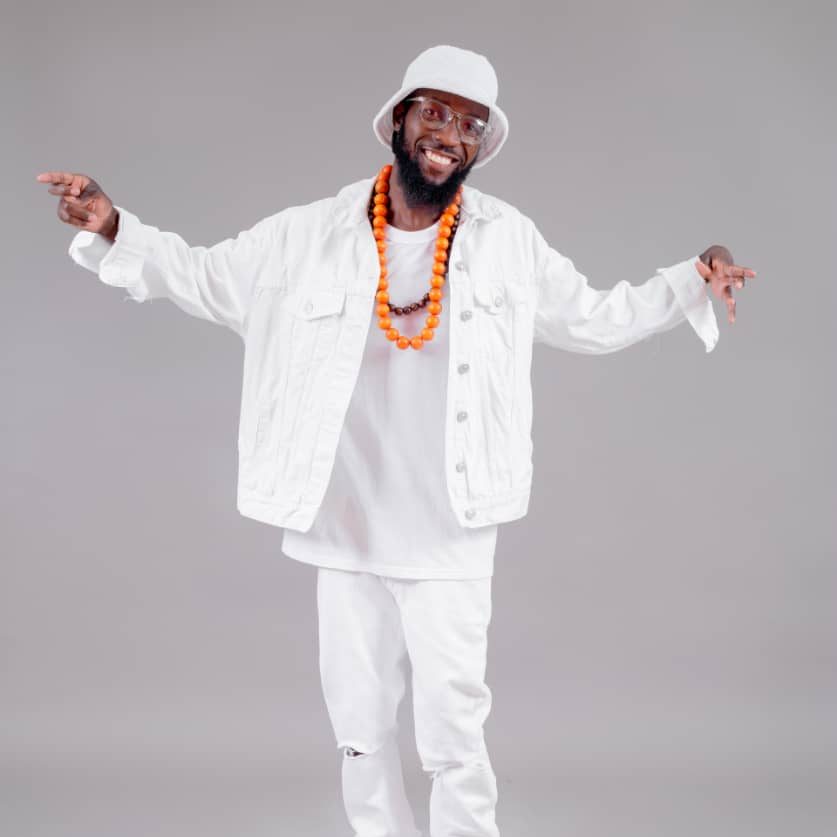 Tshigwedha Pous Pius, known as Chakalas or Mr Reggaenality is a musician and visual artist. Born with a physical disability, that didn't stop him from pursuing his passion – Music. Chakalas is a huge fan of Reggae music and has been a reggae musician for quite some time, drawing his inspiration from Jamaica, but creating a unique flavour and style to the sounds, styles and melodies with his Namibian roots, calling it NamRagga Style.
Instagram: @chakalas_puis
Hozala's Finest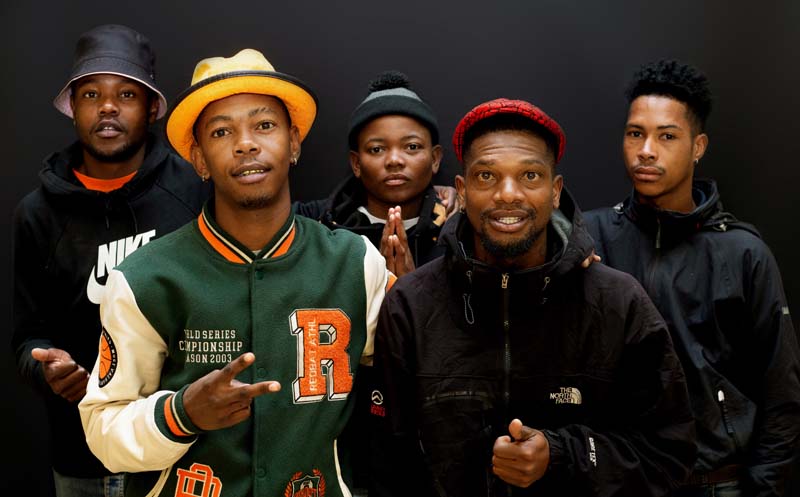 Hozala's Finest is a pantsula dance group comprised of
Vencent Angula, Moricha Job, Antonio Brenden Geiseb & Melvin Beukes.
Vencent Angula, also known as Vincent Die Laste Hond, is a dancer, musician, and choreographer with 15 years of dance experience. His career has seen him feature in campaigns for Namport, Fnb, City Windhoek, and UNAM to name a few.
Instagram: Vincent Die Laste Hond King & Hozalasfinest2010
Moricha Job, who is mostly known as Emjay "hype Mc" is the Hozala Finest director, dancer and firefighter by day. Moricha is also an experienced MC, with over 10 years experience of in Roadshows activations, dancing, and project co-ordinating and has worked on campaigns for Windhoek Cultural Festival, Kasi vibe Festival, FnB, Namport and on Nedbank campaigns.
Instagram: Emjay Hype_hype_mc
Antonio Geiseb is a Dancer with 10 years experience of in dancing and featuring in campaigns for FnB, Namport and City of Windhoek Campaigns.
Instagram: Brelish_special_official
Melvin Beukes is the head choreographer and dancer for Hozala's Finest. Melvin has 15 years experience of in dancing and choreographing music videos for prominent musicians such as the Dogg, Tswazis and D-Naff. Melvin has featured on campaigns for FNB, Namport, The Tura Tour Guide and NAC projects and more.
Hage Nasheotwalwa Mukwendje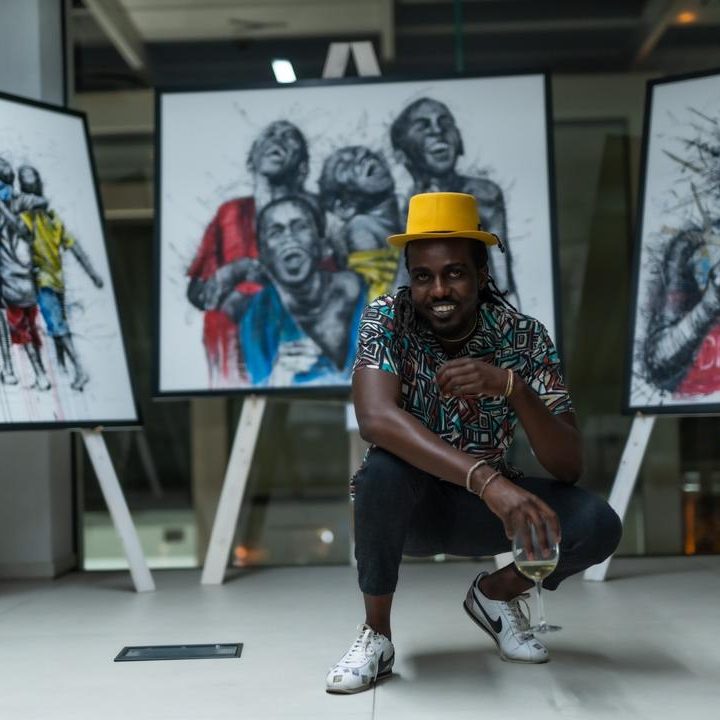 Namibian Born visual Artist Hage finds inspiration in his own autobiographical life experiences utilising numerous issues as subject matter, such as iden­tity, children joys and gestures in hardship, isolation, happiness and fear. "My work depicts vulnerability and suggests a longing for protection. The subjects I depict in my works are often my personal life encounters and experiences in my childhood. I aim to capture the innermost essence of the mind of my subjects. I want my audience to not only see the work, but also to feel it." His body of work finds form in a series of expressive portraits that are informed by photographic references, as well as paintings of cameras that emphasise the integral part photography plays in his process.
Tity Tshilumba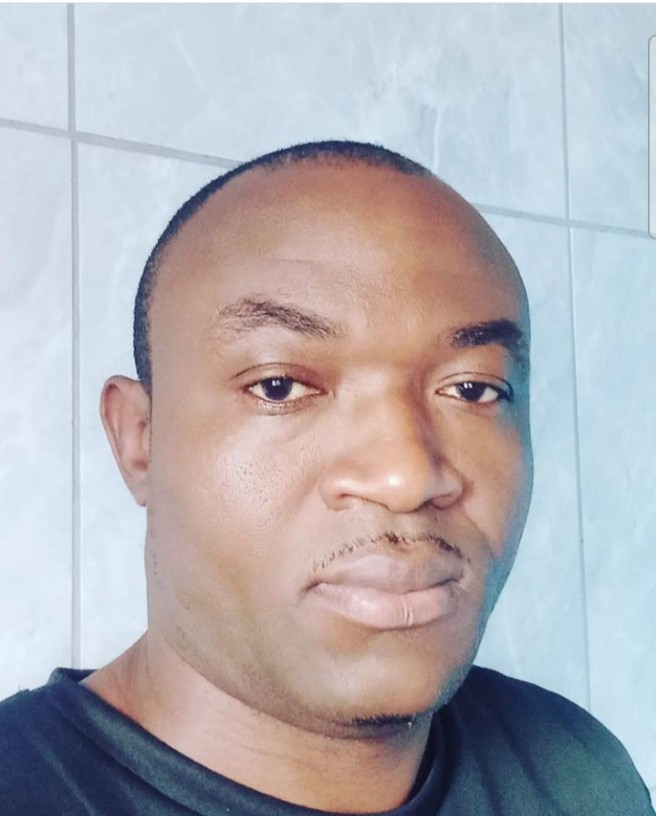 Tity Kalala Tshilumba was born in the Democratic Republic of Congo (DRC) Province of Katanga. He acquired his art diploma from the Academic Dec Beaux-art / College of Arts in Lubumbashi. He currently resides in Namibia as a practicing artist and has participated in 29 group exhibitions and three solo exhibitions. The artist has exhibited nationally and internationally in museums such as the Würth Museum in Germany and the Museum of Africa Art in Serbia. He has attended various art workshops including Tulipamwe, the B2 Gold Project, as well as having worked on various large scale mural paintings. His works can be seen in the Ministries of Justice, Land and the Auditor General. The Source is his fourth solo exhibition.