The OLAF 2023 Special Edition brings forth an array of commissioned artworks by a diverse group of creatives echoing important themes ranging from wellness, community, and sustainability across various areas of everyday life. These creatives range from well-established professionals to emerging artists all offering diverse perspectives on social development and wellness in the city and beyond.
---
A Gulps Worth
P-Kay:
Petrus "P-Kay" Kamati is a versatile artist based in Walvis Bay. He's a Producer, DJ, and Percussionist. His musical journey began when he joined the Namibia Marimbas traditional music group during high school. He later studied Sound Technology at COTA and has been creating and releasing music ever since. His favourite genres span Afro House, Afro Tech, Afro Beats, Hip-Hop, and RnB.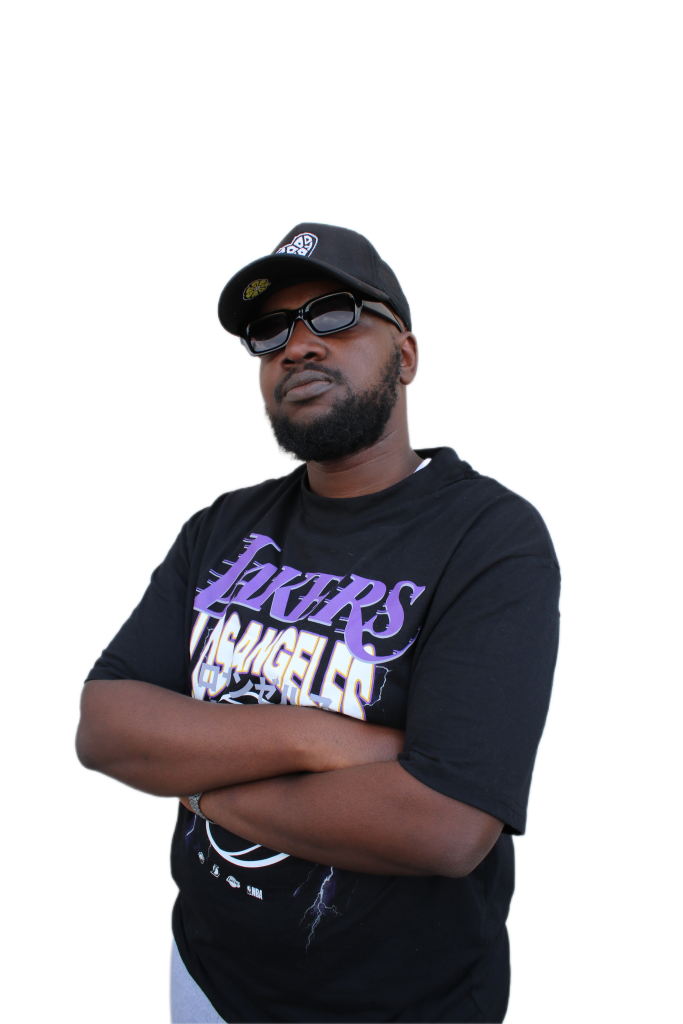 Rodney:
Rodney Taylor, a DJ, Producer, and art enthusiast, was born and raised in the coastal town of Walvis Bay. His creative journey was shaped by the artistic influence of his father, who introduced him to music from cultures around the world, with a particular focus on sounds from West Africa and Cuba. This unique blend of artistic inspiration and musical prowess has led to a career that continues to evolve and captivate.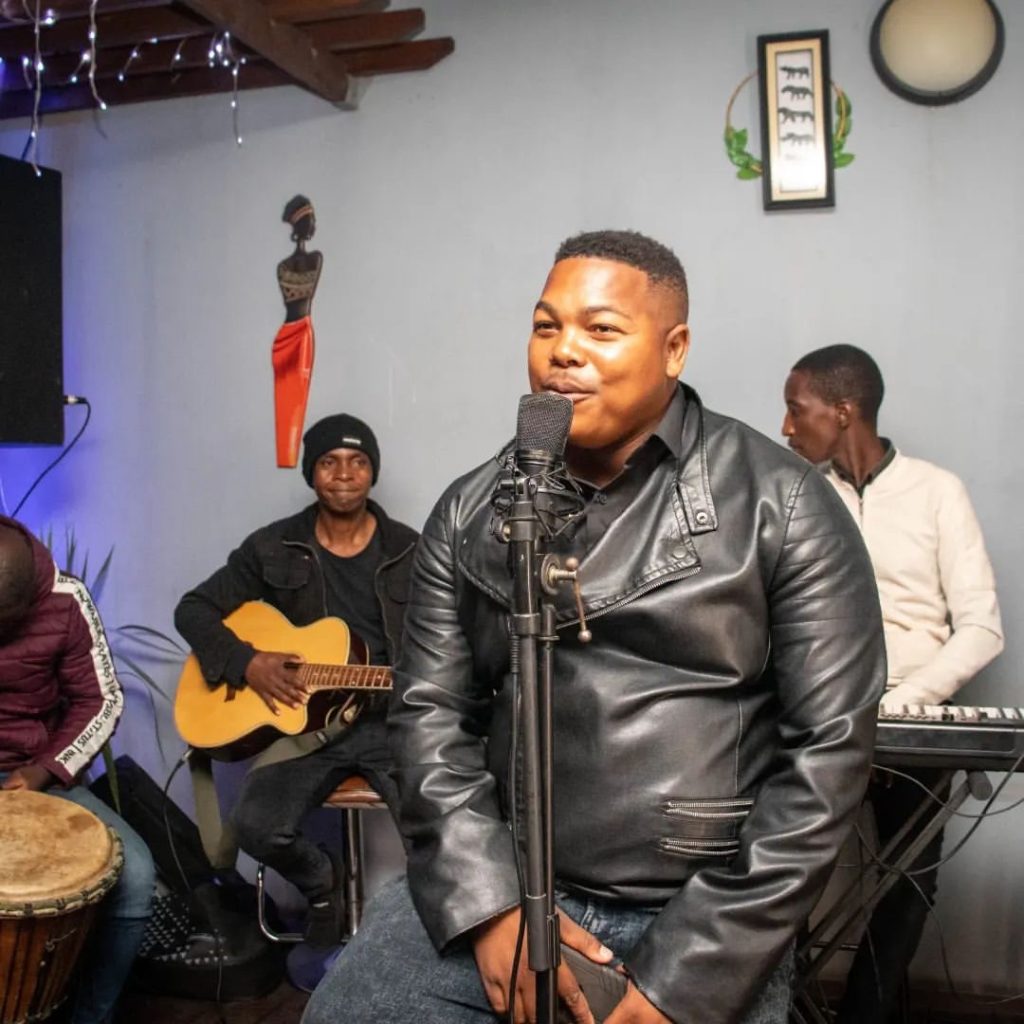 Romano:
Romano Nauseb is a multifaceted artist, including being a Father, Husband, Vocal arts performer, producer, songwriter, and content creator. Born and raised in the coastal city of Walvis Bay, he began his musical journey with the Mascato Coastal Youth Choir and later formed the renowned group AfroShine, known for the Namibian hit "Ti Mama." In recent years, he established a musical live band titled "Romano Nauseb and The Band." He has performed at various local functions and is now collaborating with A Gulps Worth in the unique afrotech/deep house style. His goal is to evolve the Namibian style of music and contribute to its therapeutic and spiritual growth.
Find A Gulp's Worth on Instagram
Haymich Olivier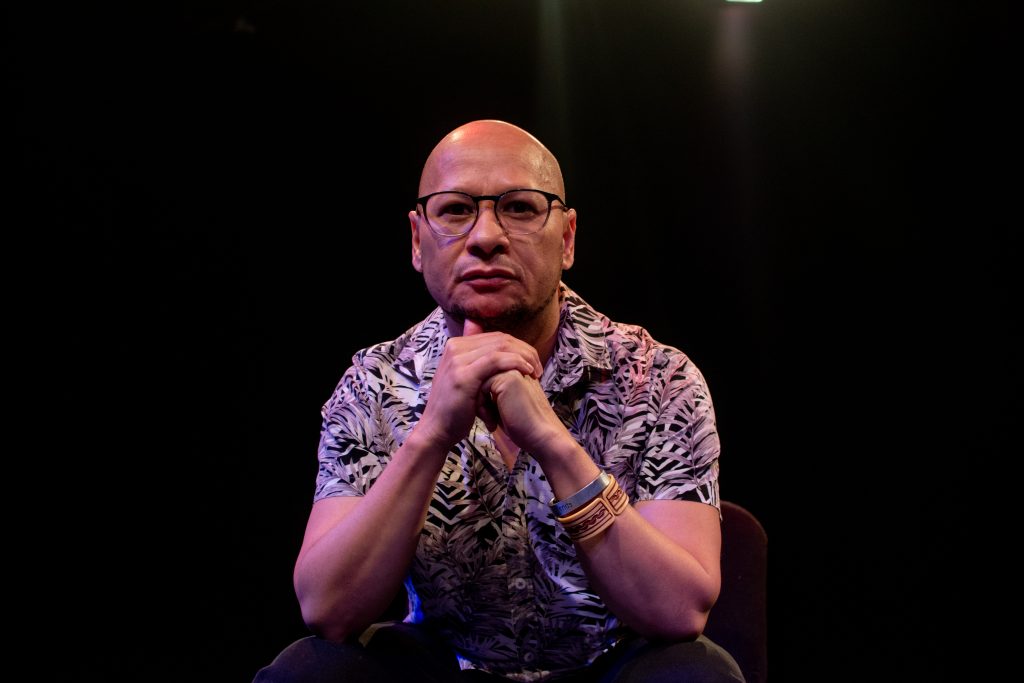 Haymich Olivier is a Namibian dancer and choreographer. He graduated from the University of Cape Town with a Diploma in Dance Teaching and an Honors Degree in Choreography in 2008. Since then Haymich prepared numerous choreographic works for the National Theatre of Namibia, Bank Windhoek Arts Festival and College of The Arts (Windhoek, Namibia). In 2010 along with fellow Namibian dancers, he started First Rain Dance Theatre (FRDT), while fully operational FRDT did community outreach work by training young dancers and employing them on a freelance basis. He was an assistant Choreographer for the Namibian Annual Music Awards for 3 years and won Best Supporting Actor in a Theatre Play during the 2012 Namibia National Film and Theatre Awards. From 2017 to 2018 he served on the Executive Committee of the Windhoek International Dance Festival, and in 2019 was selected to be the main choreographer for the Namibian Annual Music Awards. In June 2023 he graduated from the University of California, Los Angeles with an M.F.A degree. He is currently employed as a dance lecturer at the College of the Arts in Windhoek, Namibia where he teaches Contemporary Dance, Choreography and Dance Teaching Methods. During his graduate studies, Haymich developed his thesis choreography entitled: mask-Q-line: Der Tisch. This dance work is an inquiry into ideas of masculinity as experienced by the dancers and the choreographer and is deeply influenced by the artist's experience of growing up in the Apartheid era of Namibia and South Africa. Furthermore, Haymich is interested in the body's response to trauma, ways to develop movement dynamics that are not based on traditional technique training as well as the movement language developed by older more mature dancing bodies.
Le-Clue Job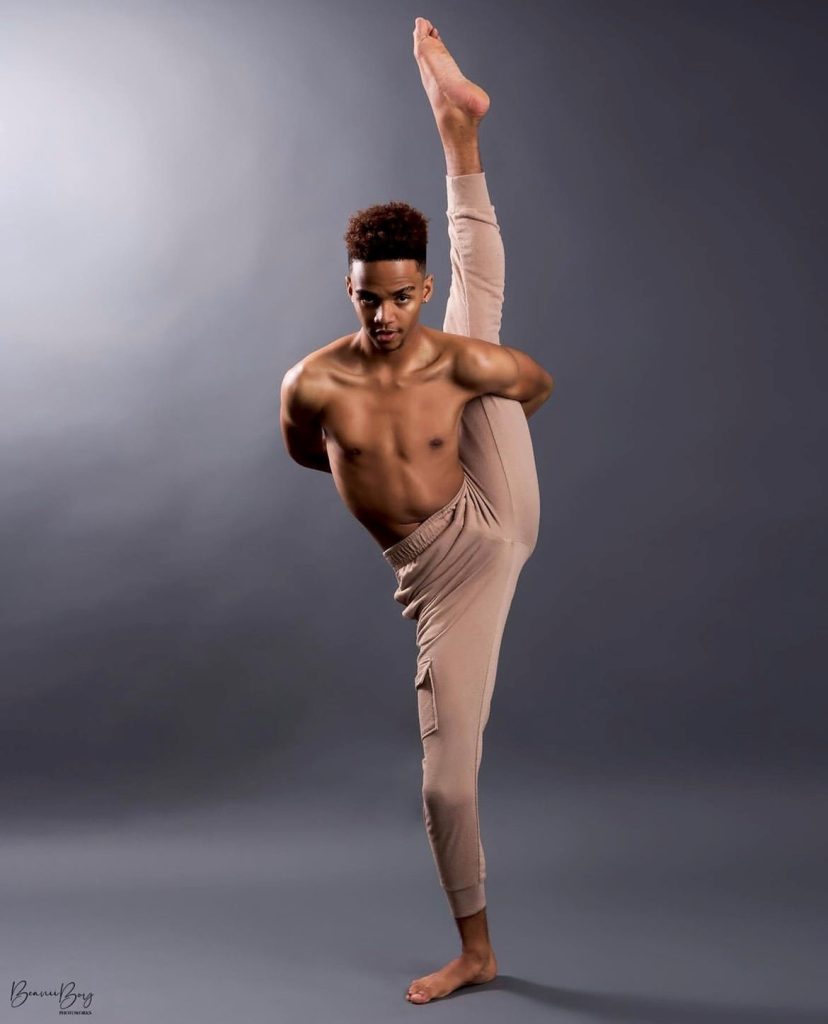 Le-Clue Job, a self-taught Namibian acrobatic dancer based in Windhoek, holds 12 gold medals from the Namibian Championships (2019) & the World Championships of Performing Arts (2018). In 2022, he earned top honours at the #BreakFree 'Arts for Activism' show by Namibia's First Lady. He's also performed for the Organisation of African First Ladies for Development (OAFLAD) at the First Lady's invitation. His portfolio includes appearances in productions like NWDT's "Street Style Stories" (2017), Sven Eric-Muller's "Aivilo Contemporary Ballet" (2018), & OYO's "Well Wish Ya" (2019) & "Remembering Johnny" (2023). He views his art as a healing force, empowering himself & other Namibian youth by fostering self-assurance, independence, & confidence while uncovering their inner beauty & strength. Through movement, he aims to convey a universal message of inspiration & empowerment, highlighting dance's transformative therapeutic potential for the body, mind, & soul.
Slick – Onesmus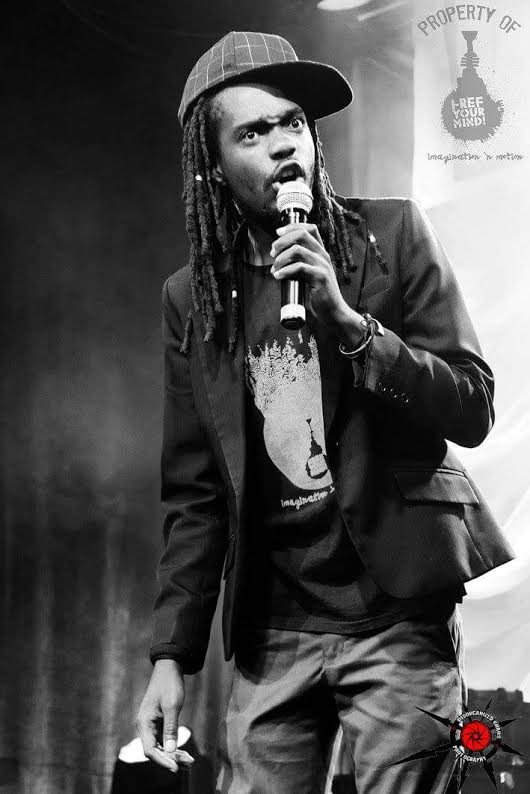 Slick, a prominent Namibian artist, discovered his passion for the arts at an early age. His journey began in a Beijing International School, where he starred in a children's educational program on Beijing TV. As the only black child in the cast, he quickly made a name for himself. Slick's artistic pursuits expanded into theater and music, notably in "Forum Theatre" and live "Hip Hop" performances. In 2008, Slick ventured into stand-up comedy, becoming Namibia's youngest comedian at the time and the country's first full-time comedian. He is now a cornerstone of the stand-up comedy scene in Namibia, co-founding the initiative "FreeYourMind!" which has provided a platform for over 40 comedians in Namibia, both part-time and full-time. Known as "Mr. Stand-Up Comedy," Slick is an expert in Kasi-Economics and excels in comedic storytelling, often revolving around topics like barber shop and car wash synergy. With 85 stand-up comedy shows to his name, he's a prolific producer, director, and mentor in the Namibian entertainment scene. Slick is a must-see performer on any stage

Tumi Mohamed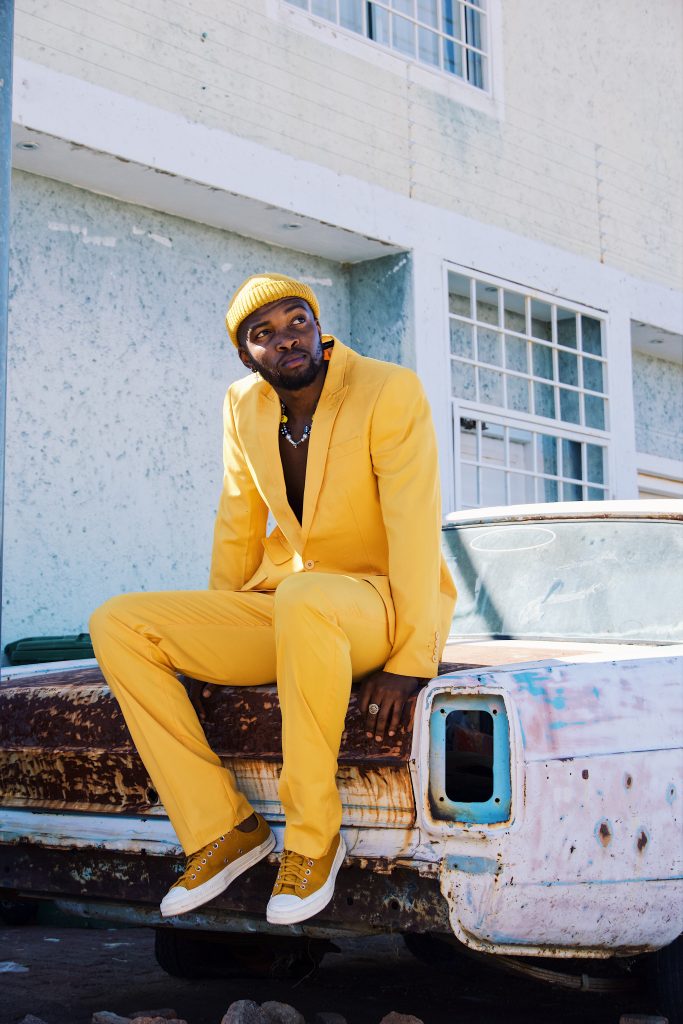 Tumi Mohamed had become one of the country's most popular and respected DJs in a short period. Born and Raised in Windhoek, Namibia, Mohamed always had strong musical influences around him that inspired and motivated him to pursue his music career. From gracing big stages alongside the world-famous Burna Boy to playing in between the famous Desert Rocks at Bar-HP in Spitzokppe. The young DJ has never been afraid to show up and show out for the crowd in front of him. Hailing from the dusty street of Soweto Katutura, Mohamed always tends to stay true to himself and give audiences a different musical experience with every single set he plays.
Vitjitua Ndjiharine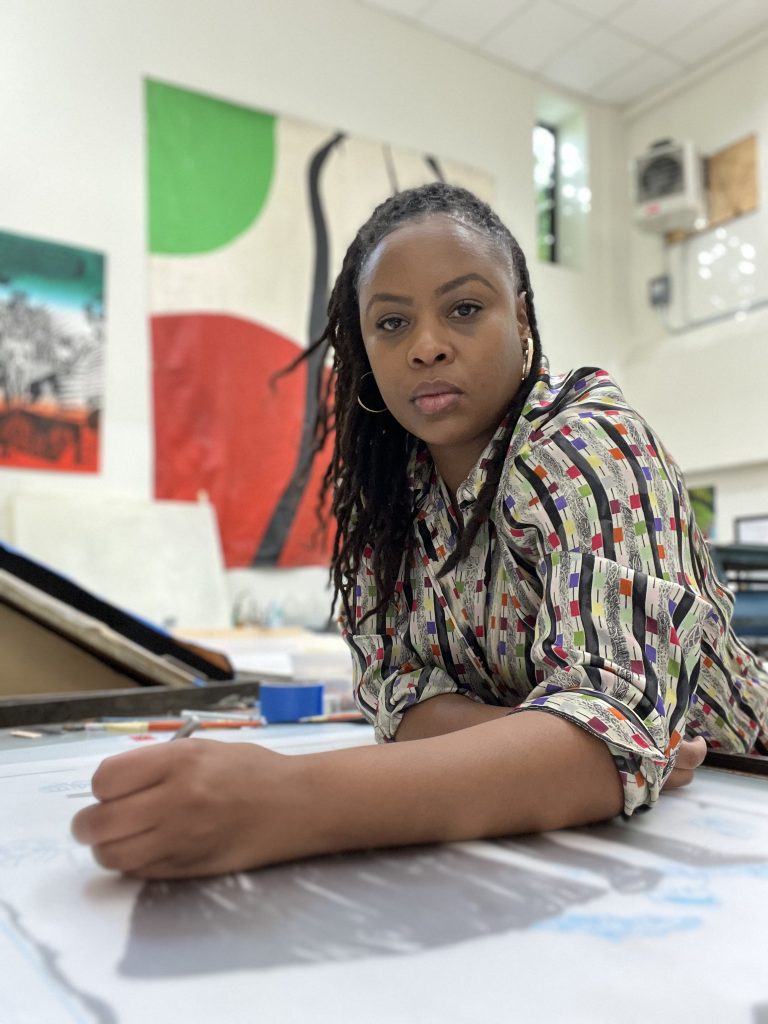 Vitjitua Ndjiharine is a Namibian multidisciplinary visual artist whose practice spans painting, illustration, design, art direction and web design. Her approach draws inspiration from different academic disciplines – such as history, cultural anthropology, ethnography, mass media and communication as well as visual culture – to create work that is layered with historical and socio-political contexts. This approach attempts to link the present and the past, through empathetic storytelling that is both tangible and approachable for people in and outside academia. In 2017, Vitjitua received her bachelor's degree in Studio Art from The City College of New York. In 2018, she was awarded a research fellowship by the Gerda Henkel Foundation in collaboration with the research centre for "Hamburg's (Post-) Colonial Legacy." This fellowship has allowed her to work in the archives of the Ethnological Museum in Hamburg and the National Archives of Namibia to develop strategies for deconstructing and re-contextualising the pedagogical function of images and texts found within colonial archives. Vitjitua has previously exhibited her work in New York City, Hamburg, Stuttgart and Windhoek.
---
ENK Artists
---
Ryan De Wee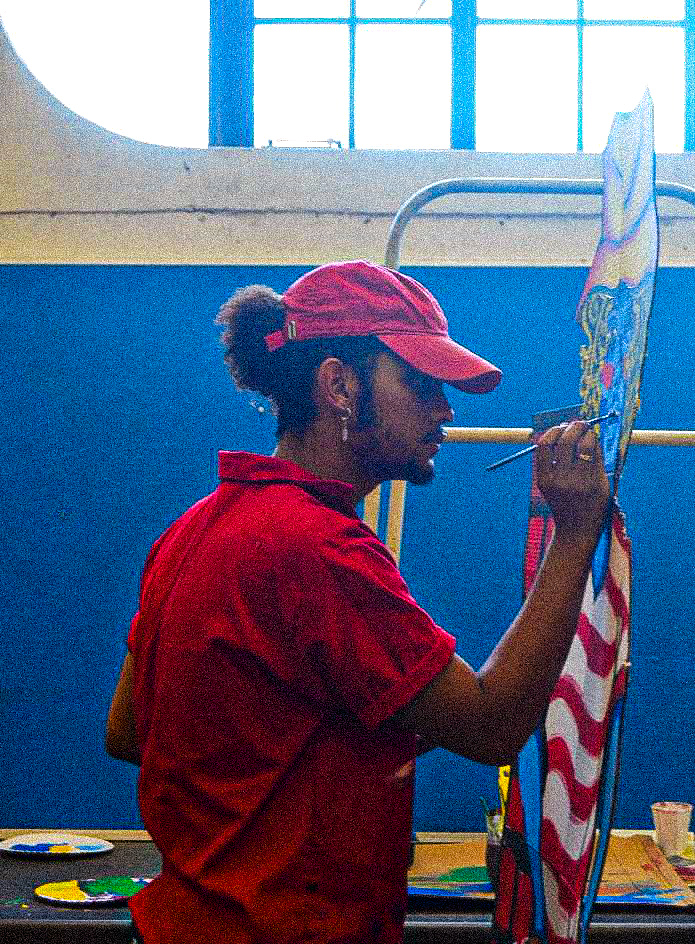 Ryan Dillon De Wee, a third-year visual arts student at the College of the Arts in Windhoek, Namibia, was born in Windhoek and raised in Tsumeb. Ryan attended Etosha Senior Secondary School from grade 8 to grade 10, then I transferred to Redimere Academy, where he matriculated. His artistic journey began with a deep-rooted passion for movies, anime, cartoons, and comic books during his formative years. This early fascination inspired him to develop a unique and bold art style characterized by its vivid, psychedelic, and colourful mixed media creations. Specializing in oil pastels and oil paints, Ryan primarily focuses on portraits and self-portraits, with a keen interest in themes that explore the human experience. His art delves into sub-cultures, psychological issues, and topics related to youth culture, providing a platform for him to express his emotions and thoughts.
Candice Mouton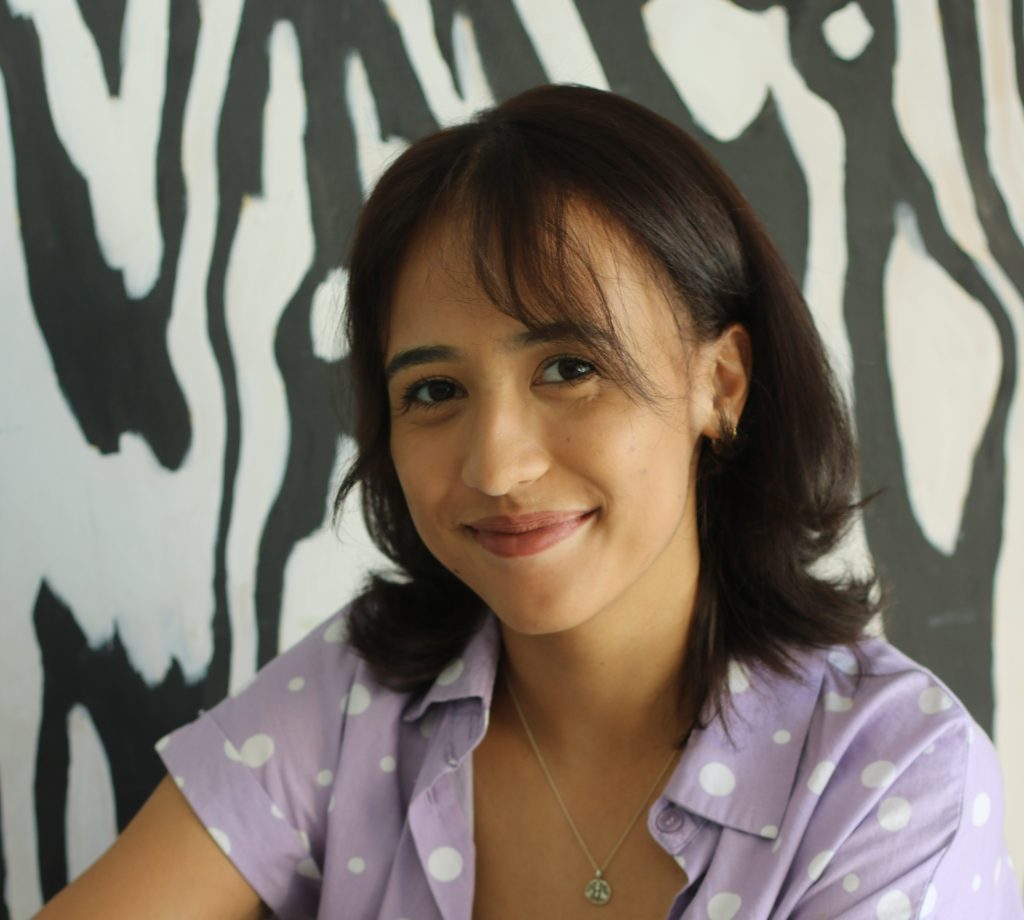 Candice Mouton is a self-taught painter born in Windhoek, Namibia. She has a Bachelor of Architecture from the Namibia University of Science and Technology. Her work reflects her formal training in architecture and spatial design, with a focus on portraying how space and cultural identity are intrinsically linked. She is passionate about visually communicating African ideas as well as the process of storytelling through visual art. After studying architecture at Namibia University of Science and Technology and obtaining her bachelor's she now designs sets, illustrates and works as an assistant curator at Start Art Gallery.
John Kalunda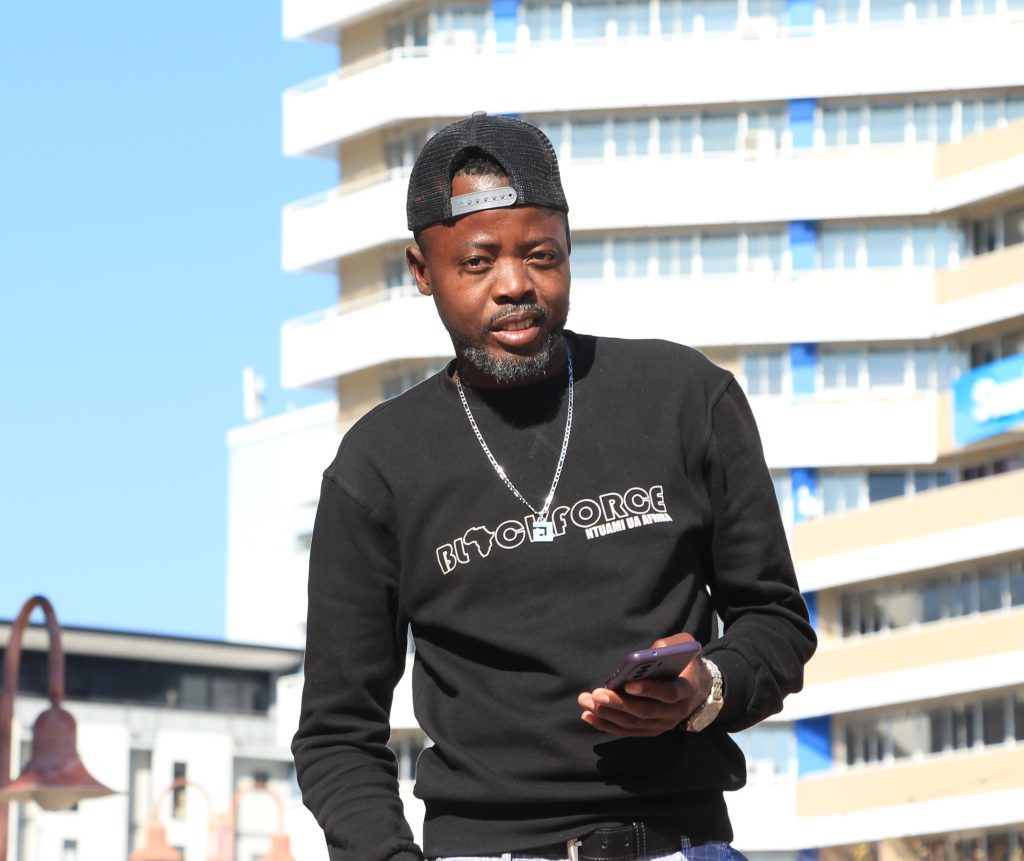 Kalunda John M, is a Namibian contemporary visual artist and arts educator, hailing from Kavango East (Rundu). He holds a graduate degree from the College of the Arts and the University of Namibia. Kalunda's work centres on mixed media paintings depicting Namibian urban and rural life. He passionately conveys the emotional landscapes of his community, using found and natural materials. His art reflects the collective sense of impoverishment experienced by his community, employing materials like grass, sand, stones, and recycled objects alongside PVA paint, typically used in construction. His miniature houses directly mirror the shanty houses of the area, with rusted tins symbolizing economic challenges. This art offers a powerful commentary on the socio-economic realities in his community. Kalunda is dedicated, motivated, and hard-working, committed to teaching and inspiring emerging artists.
Petrina Mathews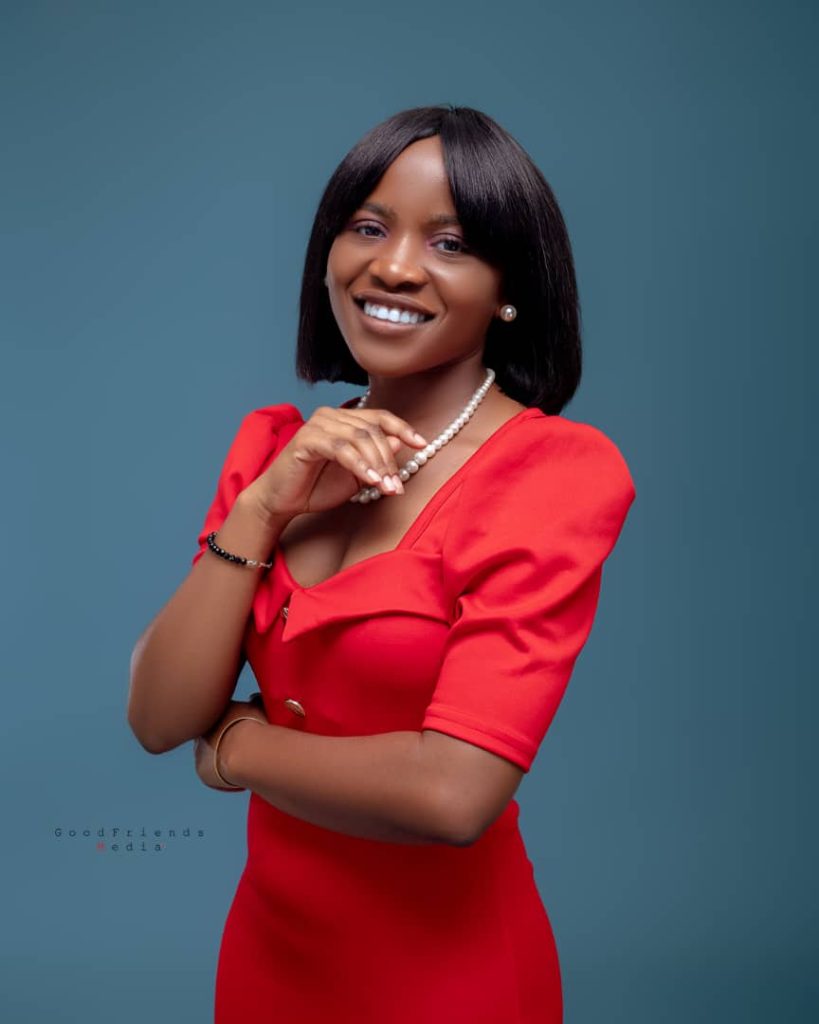 Petrina Mathews is a talented Namibian artist with a unique specialization in body painting and jewellery making. In 2019, she earned her Diploma in Visual Art from the College of the Arts, where she honed her skills in Action Painting. Her portfolio includes diverse mural creations and skills workshops, showcasing her commitment to both artistic expression and sharing her expertise. She has also been actively involved in art organizations such as the National Art Gallery of Namibia and the Namibian Arts Association. Petrina's artistry has been featured in group exhibitions hosted by the College of the Arts and the National Art Gallery of Namibia, highlighting her dedication to the craft and the Namibian art scene. In her own words, "I use my body to paint, as I can better express myself with every stroke of my hand, stomp of my feet, move in my dance, and the rest of my body. My work is an expression and extension of my feelings, emotions, pains, and uncomfortable truths. Every painting is filled with the colour of a past feeling and memory." Petrina's art serves as a powerful voice for mental health awareness, providing a platform for individuals to release and find healing through the catharsis of her expressive creations.